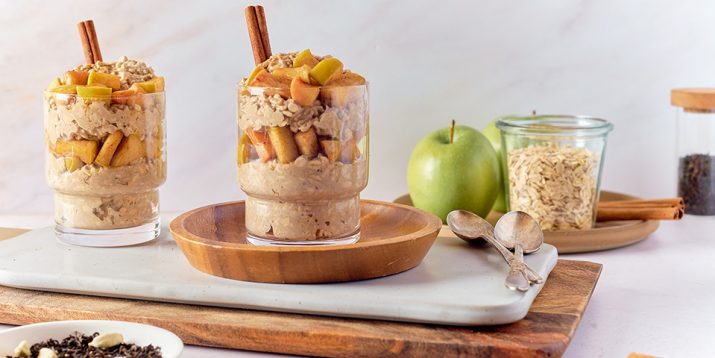 Basically, this overnight oats recipe is fall concentrated in a bowl. The rolled oats absorb all the great flavors: the Vanilla Chai Shakeology with hints of cinnamon and cloves, the fresh apple, and the apple pie spice mix, which adds a really special touch.
Vanilla Chai Shakeology is a seasonal, limited edition flavor, so enjoy it while it lasts!
Whole time: 15 min + 4 h to cool down
Preparation time: 5 min
Cooking time: 10 min
Servings: 1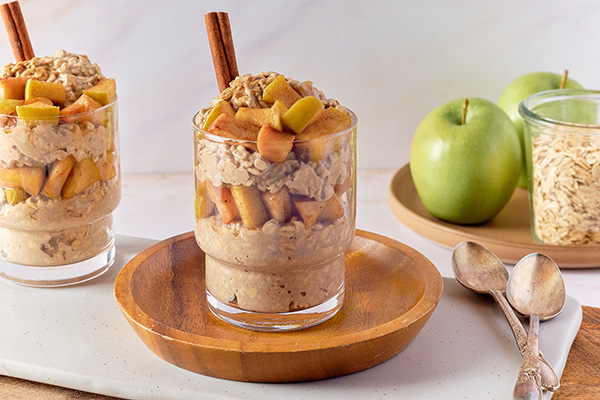 Ingredients
nonstick cooking spray
1 medium apple, chopped
½ tsp. pure coconut sugar
½ tsp. apple pie spice
20 g / ¼ cup dry rolled oats
1 serving Vanilla Chai Plant-Based Vegan Shakeology
120 ml / ½ cup unsweetened almond milk
Instructions
Heat a medium nonstick skillet over medium-high heat; cover it lightly with spray.
Place apple, sugar, and apple pie spices; cook, stirring frequently, for 8 to 10 minutes or until the apple is softened.
Place oats, Shakeology portion, apple, and almond milk in a 16 oz (500 mL) airtight jar; stir until ingredients are blended. Refrigerate for at least 4 hours, or overnight. Enjoy within 24 hours.
The box below indicates the approximate nutritional information for this recipe.
Fantastic Fiber (F), Dairy Free (SL), Protein Power (P), Vegan (V), Vegetarian (VG)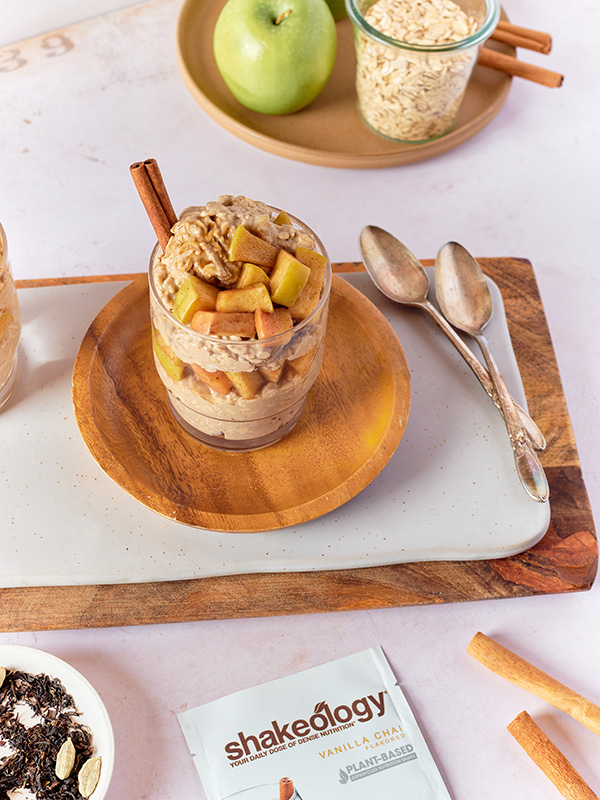 Nutritional information (per serving):
Calories: 357
Complete fat: 6 g
Saturated fat: 1 g
Cholesterol: 0mg
Sodium: 385mg
Carbs: 56g
Fiber: 13g
Sugars: 30 g
Added sugars: 7 g
Protein: 20g
Equivalent Container Servings
1 purple
1 red
1 yellow
1 tsp.
Equivalent Container Servings, Vegan Plan
1 purple
1 red
1 yellow A
1 tsp.
"Prepare your plate!" by 2B Mindset
This recipe is perfect for breakfast.